Indian batswoman loves watching Babar Azam's cover drive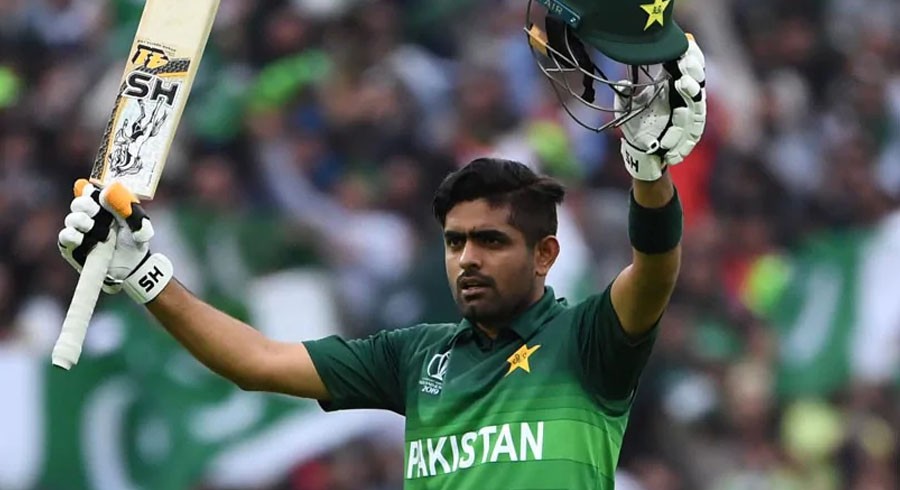 India's batswoman Jemimah Rodrigues, in an Instagram live chat, revealed that she loved the cover drives played by Pakistan's prolific batsman Babar Azam.
Rodrigues, who is known for her quirky nature, was asked about her favorite shot followed by the player who played it best.
"Cover drives. I love Babar Azam's cover drive," Rodrigues said.
Babar is currently the captain of Pakistan's Twenty20International (T20I) side and has been prolific run-scorer for Pakistan, across all formats, in the recent past. He has been compared to India's skipper Virat Kohli for possessing a similar hunger for scoring runs.
The right-handed Babar features in the top five of ICC rankings for batsmen in all formats with first, third and fifth position in T20Is, ODIs and Tests respectively.
Former Indian opener Aakash Chopra has included two of Pakistan's finest cricketers in his Best Test XI, which comprised of players who he played for and against.
Chopra, who made his debut against New Zealand in Ahmedabad, played 10 Test matches for India between 2003 and 2004.
"I did not play many Test matches, a total of 10 to be exact. I played against Australia, Pakistan, New Zealand," said Chopra while speaking in a YouTube video. "Today I'm going to prepare a Test XI, which will include players I played for, India, and against."
The 42-year-old included Pakistan batting great Inzamamul Haq at the number six spot in the playing XI.
"At number six I have got Inzamamul Haq. You might think why he is lower down the order [due to presence of other great players above him] but it's important to have him in the side," he said.
The former right-hander also included world's fastest bowler, Shoaib Akhtar, in his lineup as well.
"Shoaib Akhtar was a fantastic bowler and bowled really fast," he said. "He once hit me on the shoulder. I gave the shirt for laundry numerous times but the stain left by the ball did not disappear. Well done Shoaibi!
"Now he is a friend but back then he was a foe," he added.
Aakash Chopra's Test XI:
Matthew Hayden, Virender Sehwag, Rahul Dravid, Sachin Tendulkar, Ricky Ponting (c), Inzamamul Haq, Adam Gilchrist (wk), Anil Kumble, Brett Lee, Shoaib Akhtar, Jason Gillespie.
Pakistan's former cricketer-turned-commentator, Ramiz Raja, in a YouTube video on Friday, claimed that the Men in Green looked set to get rid of its batting woes due to the emergence of talented young batsmen in this year's Pakistan Super League (PSL) season five.
The 57-year-old predicted a bright future for Pakistan in terms of the batting and fast-bowling departments.
"This is the first time I saw some very good batsmen in the PSL who had a good attitude. There is a lot of room for improvement but I see a bright future in that department. We have a great talent pool of fast-bowlers. We saw five or six really fast young bowlers in the PSL. We need to identify the talent," said Raja.
Raja stated many reasons for the eventual downfall of Pakistan cricket and claimed that confusion in strategies was the biggest hurdle towards development.
"The talent dried up. The lockdown of cricket has been going on for the last 10 years or so. We saw the repercussions of that time as well. Our strategy was all over the place too. I still think that there is no clear cut strategy of what needs to be done," he said.
"They don't know what needs to be done with the senior players or the junior players. You sometimes have to take difficult decisions in order to move forward which is not happening. This creates confusion. In order to fix it you have to get rid of that confusion," the former opener added.
Raja also emphasised that old players were not suitable to lead the Pakistan side towards betterment while prompting the Pakistan Cricket Board (PCB) to make difficult decisions.
"We are also stuck with old players and think they will save us. I can't fathom how we can win the T20 World Cup with old players. The past tells us that this can't happen," he said.
Raja stated that the first-class system is the most vital aspect of any cricketing nation and no development can take place without its improvement.
"Until your first class system is improved the PSL can never be effective no matter how engaging it becomes. You cannot create superstars with T20 cricket. They need the temperament and the technique to thrive. Our first class structure is still at an experimental stage," he concluded.